For Adoption: 8 weeks and up - Housebroken and Professionally Trained: 26 weeks and up


Blind Dogs at Gentle Giants Rescue and Adoptions - Photos, Stories, and Letters - Page 1 of 2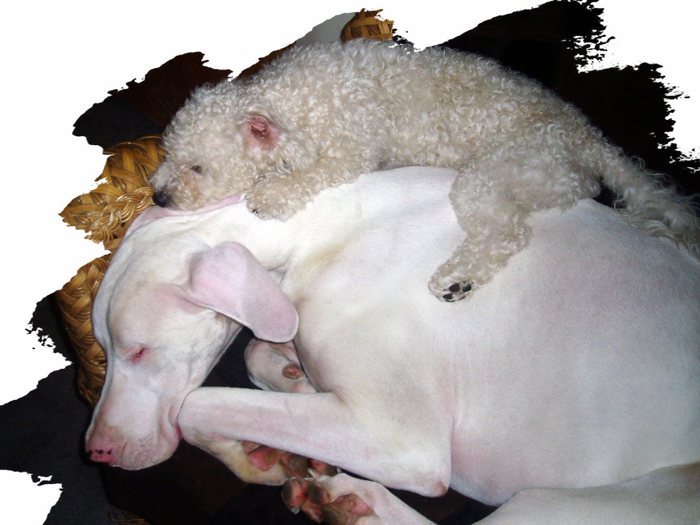 "Bumper" provides a 'Canine Couch' for his little 'sister' "Fifi"
(
"Bumper" is a giant blind and deaf Harlequin Great Dane
)
Blind and deaf Great Danes and other Gentle Giants are precious creatures that
rise above their limitations often better than humans. Their quality of life can be
wonderful if given a chance. Unfortunately, there are many people who are quick
to put them to death because in their ignorance they don't believe these dogs can
live a productive life. Those people are wrong. Below is a visit at home with "Bumper"
showing how much love and happiness he experiences and shares daily with his family.
This is why we save EVERY life!
"Bumper" at Home
Good morning, Tracy!

I'm sure with all of the Danes that you see, it's difficult to keep track of them all.

I hope you this enjoy video of "Bumper" - the blind and deaf puppy we adopted from you a little over a year ago.

"Tiny" makes a few appearances, too.

As you will see, "Bumper" has grown into a very handsome and spoiled young lad.

He doesn't have a clue that he is "disabled."

Within days of us bringing him home, he had mapped out our entire house and yard.

"Bumper" is the reigning champ of hide-and-seek tag, and there isn't a door in the house that he can't open,
(including the refrigerator) or faucet he can't turn on.

He is a handful to say the least, and such a blessing to our home!!!!!

Much love and appreciation!

Jamie



Hi Jamie,

I remember every one of the babies that I adopt and will never forget "Bumper" or "Tiny."

I cried watching this video.

I am so happy that they both have the home that I dream of for all of the dogs that I rescue.

"Bumper" is SO incredible, and SO ARE YOU!!!! 

"Bumper" has really gotten HUGE, too!

Who is bigger, "Bumper" or "Tiny"? 

Thanks so much for being such a great home to both of my 'babies.'

I wish you could adopt ten more, and I hope you may some day.

Give them 'Big Jowel Kisses' for me, and always know how very much we love and appreciate you, too.

Tracy


Bumper wants now has a Home!


Hi! My name is "Bumper" and I am a 12 week old Great Dane. I'm not your normal 'run of the mill' Great Dane. I am extra special.

While other Great Danes use their eyes and ears throughout the day, I use my "Super Hero" special radars to accomplish my
special puppy missions.

You see, when daddy Burt wasn't looking, I snuck into the Bat Cave and learned lots of neat stuff.

I can go in and out of a pet door with no help. I taught myself!

I find my food and water using my "Super Hero" special radar.

I play with my foster sisters and steal their toys when they aren't looking.

I feel sorry for them. They are special needs doggies that have to rely on sight and sound to know what's going on.

I know I should only use my super powers for good, but it's just too much fun playing tricks on the girls.

I also use my "Super Hero" radar powers to swim in the pool.

I go in with my foster Dad, and as soon as he let's me go, I swim to the steps!

I LOVE TO PLAY IN THE WATER!
Anyway, I have GREAT NEWS!

I am ready to be adopted!!!

If you are a family who needs some special help from this little "Super Hero", then you better get on the Bat Phone and call
Burt right now!

I'm CRATE TRAINED.

I love to take showers with humans! I'm awfully cute, very smart, and "Super Duper" special!
Love,
"Bumper"



Hi Tracy!

We are starting a photo album for "Bumper" the first 'foster pup' for Gentle Giants Rescue. 

Here are some photos for the website.

I will have a surprise for you soon, but "Bumper" wants me to keep it a secret for now.

Hang on for another email with photos.

Annette L. Riley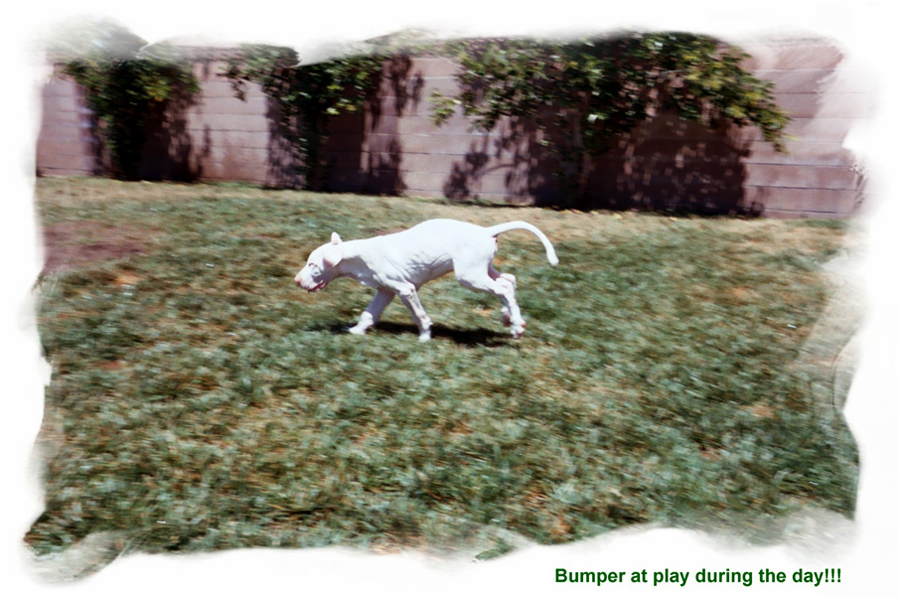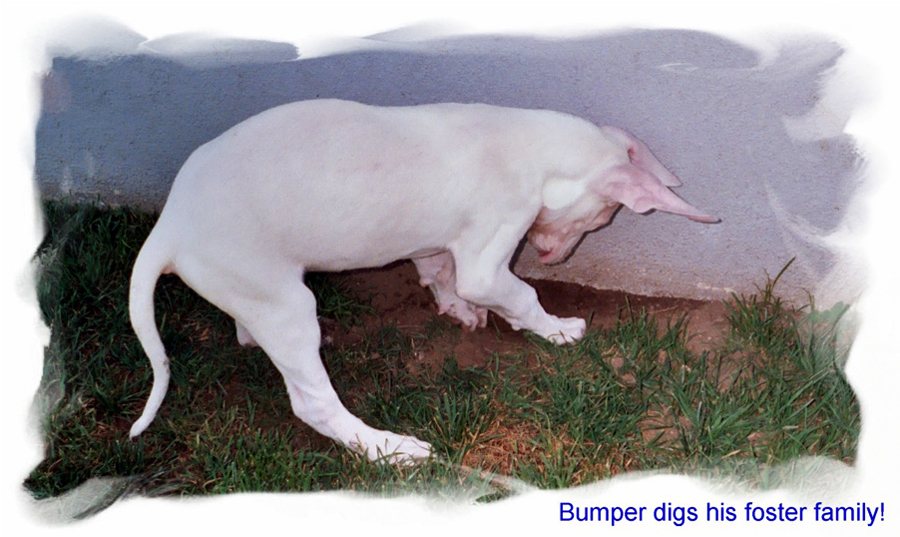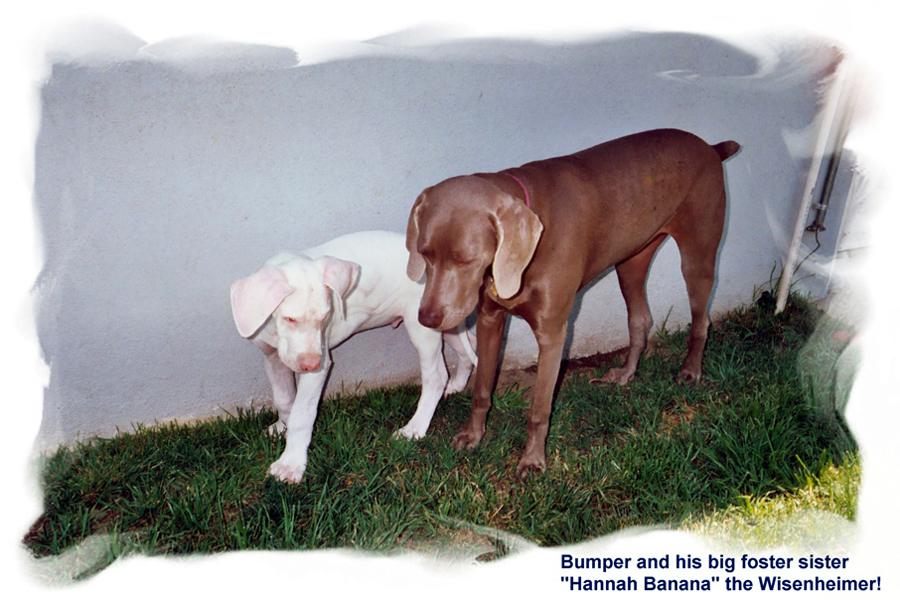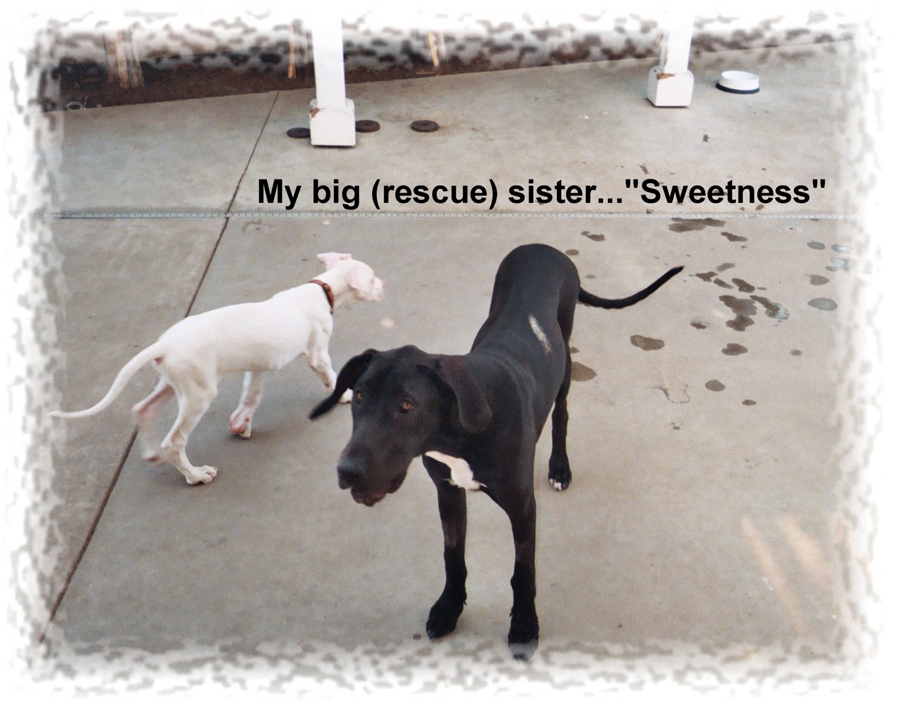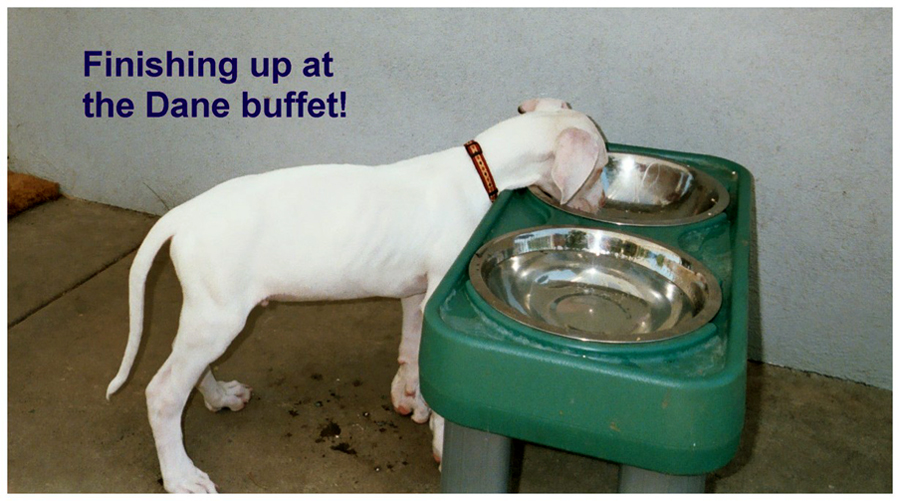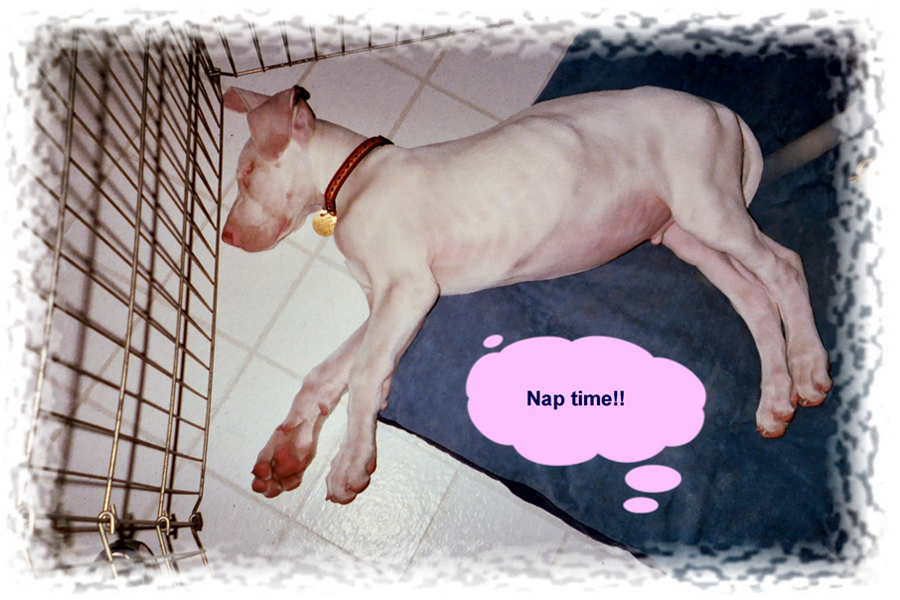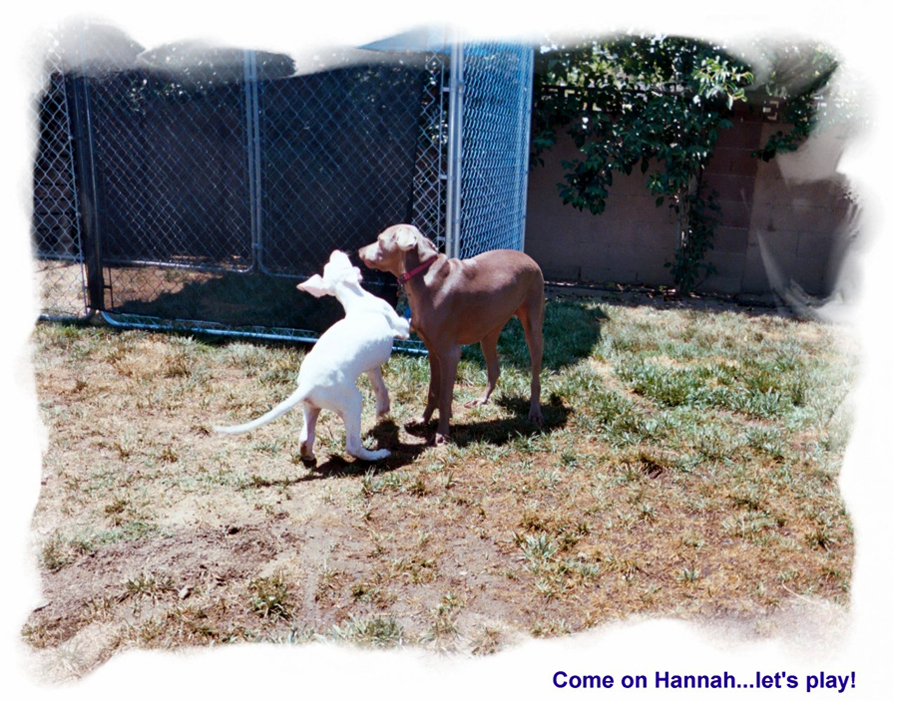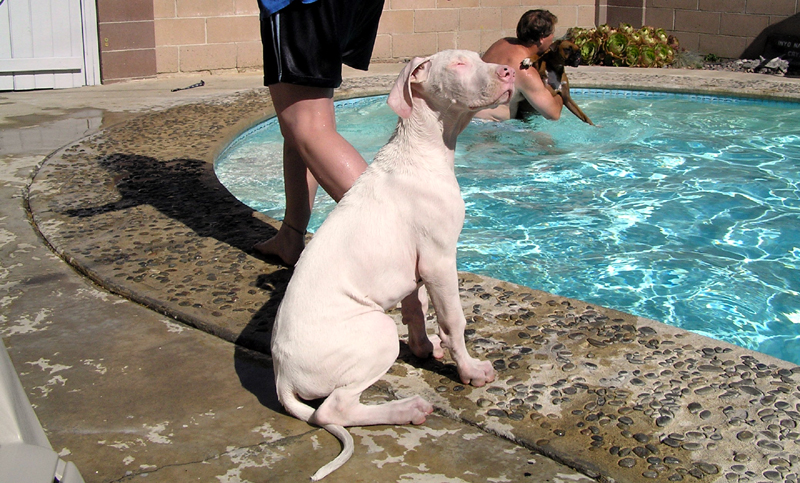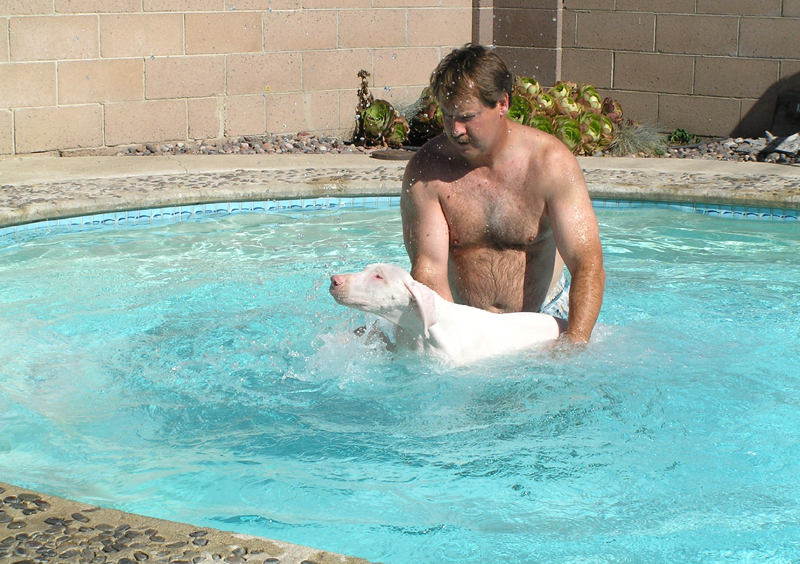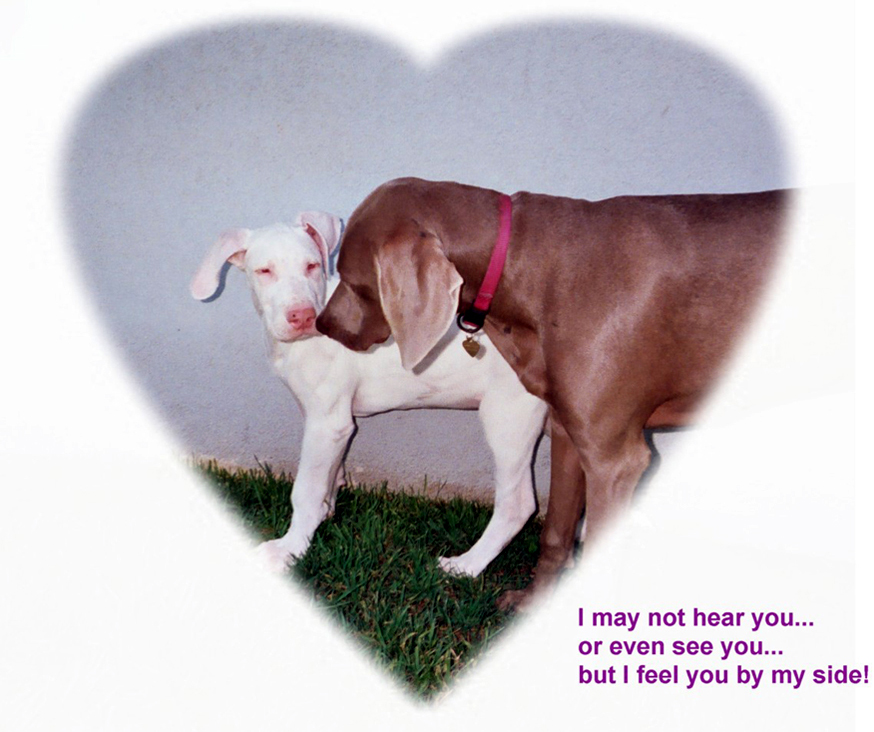 Blind Dogs at Gentle Giants Rescue and Adoptions
- Photos, Stories, and Letters - Page 1 of 2

COME TO ADOPT YOUR PERFECT FAMILY MEMBER!
MEET AND ADOPT A BEAUTIFUL BLIND DOG!


YOU CAN AS MUCH AS DOUBLE THE LIFE SPAN OF YOUR DOG!
OUR DOGS ARE LIVING AN AVERAGE OF TWICE THEIR NORMAL LIFE SPAN!


For Unconditional Love - Adopt One Of Our Dogs!

CLICK BELOW TO ADOPT A GENTLE GIANT OR LITTLE GIANT!

WE HAVE THE LARGEST SELECTION OF GIANT BREED DOGS IN THE WORLD

LEARN ABOUT
OUR RESCUE
MEET THE BREEDS
THAT WE RESCUE

OUR DOGS
FOR ADOPTION

WATCH OUR
HOME VIDEOS

WHAT OUR HAPPY
ADOPTERS SAY

ADOPTION
APPLICATION

Our Family

Why Are Our Dogs living TWICE Their Normal Lifespan?

CLICK BELOW TO READ HOW OUR FEEDING AND CARE PROGRAM AND
ALL NATURAL GENTLE GIANTS DOG FOOD CAN EXTEND YOUR DOG'S LIFE!



WATCH OUR TV SPOT
SEE OUR DOGS AT HOME

DOUBLING THE LIFE SPAN OF YOUR DOG!

WATCH HOW WE FEED OUR DOGS


ALL NATURAL GENTLE GIANTS DOG FOOD

WHERE YOU CAN BUY GENTLE GIANTS

ORDER GENTLE GIANTS
DOG FOOD



Our all natural Gentle Giants dog food is available in retail stores



Great Danes




Borzoi




Great Pyrenees




Saint Bernards




Newfoundlands




English Mastiffs




American Mastiffs





Neapolitan Mastiffs




Dogue de Bordeaux
French Mastiffs



Bullmastiffs



South African
Boerboel Mastiffs


Tibetan Mastiffs



Fila Brasileiro
Brazilian Mastiffs

Tosa Inu
Japanese Mastiffs


Adronicus Mastiffs




Spanish Mastiffs




Leonbergers




Irish Wolfhounds




American Staghounds




Scottish Deerhounds




Greyhounds




Saluki




Ibizan Hounds




Whippets




Silken Windhounds




Sasquatch




Akbash




Maremma Sheepdogs




Bernese Mountain Dogs




Bloodhounds




Doodles, Woodles




Poodles, Labradoodles




Exotic Breeds




Peruvian Inca Orchids




Unique Combinations




Shelties





American Eskimos





English Bulldogs




Xoloitzcuintle





Chinese Cresteds




Italian Greyhounds




Little Giants Combinations




Gentle Giants Buddies




Hard of Hearing Dogs




Blind Dogs



COME VISIT OUR GENTLE GIANTS STORE
GREAT GIFTS, GEAR, APPAREL, JEWELRY AND FUN STUFF
FOR PETS AND THE PEOPLE WHO LOVE THEM!


WELCOME TO GENTLE GIANTS THEATER AND MEDIA CENTER
ENJOY OUR TV SHOWS, RADIO INTERVIEWS AND NEWS ARTICLES ABOUT OUR RESCUE, OUR DOGS AND HOW WE HAVE THEM LIVING SO LONG!

CLICK BELOW TO ENTER OUR GENTLE GIANTS STORE

AND SHOP TO YOUR HEART'S CONTENT!

COMING SOON
| | | |
| --- | --- | --- |
| Gentle Giants Dog Food | Gentle Giants Beef Liver Treats | Gentle Giants Chicken Liver Treats |



Please Note: Gentle Giants Rescue - Blind Dogs reserves the right to make changes, additions, deletions and/or modifications to its website, documentation, requirements and policies at any time. All such changes, additions, deletions and/or modifications to its website, documentation, requirements and policies may apply retroactively at the discretion of the company.

© Copyright 2003-2011 Gentle Giants Rescue - Blind Dogs. All Rights Reserved.